I'm hoping tomorrow is full of productivity. It feels best when I get a lot done on Monday's because I feel like it sets me up for a good week ahead.
I know tomorrow will be a decent writing day because I got a good idea for my novel. It's a small detail that I appreciate. I've added a part to the novel where my main character, Christian, thinks about a painting titled "Woman with a Vase of Flowers" (shown below) by one of my most favorite symbolist artists Odilon Redon.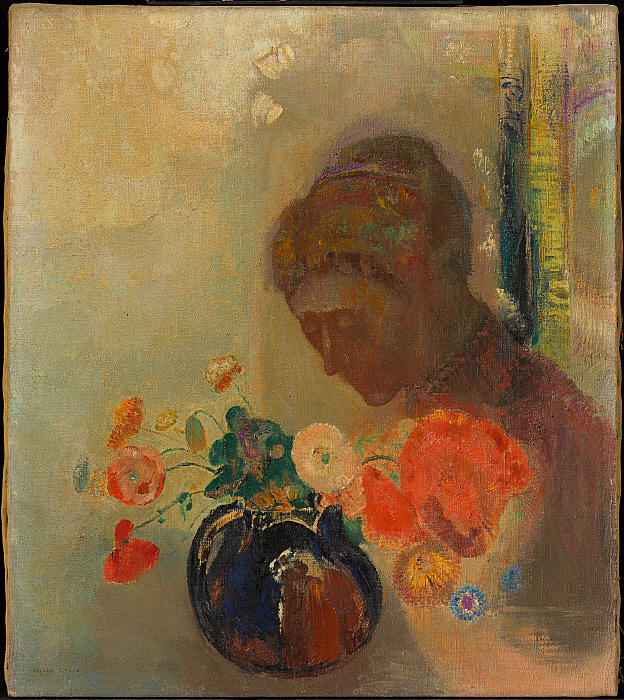 My main character, Christian, the painter (turned writer) in my story becomes obsessed with an interesting phrase that was inspired by this painting. "A woman with roses." I've decided to add a coincidence or a possible reason to her obsession just to keep things consistent. In my stories, I don't like to give away all the answers. I like to leave some space for imagination. But at the same time, I do want to challenge my readers and provide the chance for them to have aha moments. What takes priority to both of those desires, is that my reader is entertained enough to escape from the harshness of reality.
I'm still working through the title. I switch between "Her Triptych, A novel "A Triptych A Novel" "Triptych" "Living Waters A Triptych" Sooo many options.
For an update, I'm working through Part two. This part is Sci Fi Fantasy a little different from what I'm used to writing (Lit fic and magical realism) but not too far off from my interests.
I'm excited to get to work on my novel tomorrow.